Shadow Kings - The Dark Ages: the army against the shadows !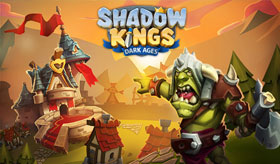 Evil is raising!
In a troubled world, the forces of darkness are growing and becoming more powerful. If no one stands against them, they will invade the world and it will gradually progress to its destruction. If this occurs, you have to react. In Shadow Kings, your task will be to fight the forces of darkness, to kill them all and to restore order in your kingdom. Let's do it! You will see that to do this, you need to evolve and to learn to be organized. You have several goals: you will both create an army with trained soldiers, but also recruit new people, build houses, expand your city and become more powerful.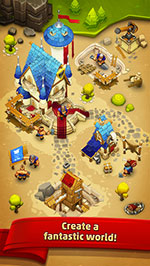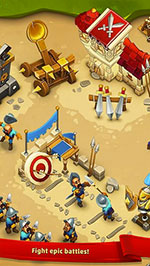 Allies or enemies
It all begins in a village in which you are a refugee. Inhabitants welcome you with open arms, if you help them to get rid of orcs that encircle the site. It's an easy battle for you. Now you'll be able to get back in business. Hire mercenaries, assign them to different tasks in the battle and start the assault. You'll know the outcome shortly after. In parallel, expand the local economy. To hire men, you need to finance, but also resources. Build all kinds of places essential to your city, and expand its borders.
The question is, who are your allies and who are your enemies? You will need to both fight the orcs, trolls and other evil creatures while you create alliances with other players in order to gain leverage in the battle. Be a strategist to play this game.
A colorful universe with unlimited possibilities
Like its predecessor, Empire Four Kingdoms, Shadow Kings is a game of strategy which is very complete, so you can spend hours playing. Nothing will stop you, as there are quests to complete, lands to explore, extensions to build and warriors to recruit. The universe may seem familiar, but it still has original features that you will discover with pleasure. Immerse yourself in this troubled world and solve conflicts by force or by diplomacy. If you play with other players, you will obviously have more power and you can complete quests faster.